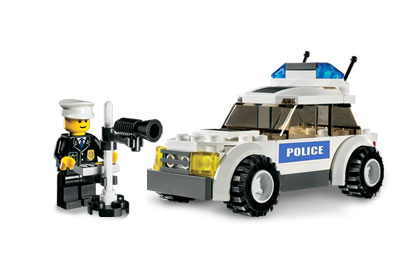 Abel, our four year old, always sees his older brothers with their cool Lego sets, but he doesn't have any. So one day while the older brothers were at school, I said, "Hey Abel, I'm going to build you a Lego police car!" I found the police car instruction book, but the problem was that all the old sets that the older brothers got tired of were all combined into a million pieces together in one huge container. Originally it would've taken fifteen minutes tops to build this small car. But for each step, I had to rummage through the container looking for that one particular piece. It was a frustrating process trying to find the right pieces with Abel constantly asking me, "Is my police car done yet?" Finally after three long hours, I finished the car.
"Here Abel!" "Yay!!!" he responded. I was happy to see him so excited about it. But ten minutes after I gave him the car, something terrible happened. While pretending that it was a flying police car, it slipped out of his hands, and dropped to the hardwood floor, scattering into many miserable pieces. "Abel! It took me three hours to build that!" I don't want to describe the ungodly frustration I felt at that moment. But I gathered myself, and because I didn't want all that work to go for nothing, I said, "I'll fix it for you. But please be careful."
It's not the first time I felt that feeling. I'm actually pretty familiar with that feeling. You worked so hard to get there, and with one slip of the fingers, with one mistake, it feels like it all falls apart. What do you do?
Jesus wanted his disciples to always pray and not lose heart, so he told a story of a widow who kept going to an uncaring judge and finally got her request answered because of her persistence. And notice how Jesus applies that story to his disciples.
Luke 18:7 And will not God give justice to his elect, who cry to him day and night? Will he delay long over them? 8 I tell you, he will give justice to them speedily. Nevertheless, when the Son of Man comes, will he find faith on earth?"
Jesus raises the question, "will not God give justice," and answers it emphatically, "I tell you, he will…" This is a promise that God hears our prayers. But I don't think this applies to praying for just anything. It's about the sure promise that Jesus will one day come and make all wrong things right. God's faithfulness will be proven at the end, and that's when we'll realize that every prayer we ever prayed for redemption was heard; that no prayer was in vain. That's when we'll realize that the most fruitful thing we did on earth was to pray.
So what should we do when our progress comes crashing down? Well, no matter what we do, we don't give up. Not because it might be easier the next time, because it often isn't; but because God promises that in the end, every prayer and every fight will have been worth it. So we gather all the broken pieces and build it again. Every prayer and every fight will be heard, and God will use them to make all things right.